NEWS
GIS247 provides
geographic information systems (GIS) software accredited GIS training courses that can be tailored to suit users at all levels of technical ability.
ABOUT COOKIES
In order to comply with recent EU regulations we need to make you aware that when you access GIS247.com, a small file (a "cookie") is stored on your computer in order for us to recognise you and allow you to login. Continued use of GIS247.com assumes that you accept these conditions.
GIS247 NEWS
A NEW section about the latest News from GIS247 is now available - Click News
GIS Essentials
New to GIS247 are a series of educational presentations about GIS which are titled GIS Essentials. These are free for all our licenced users. 2 of these presentations have also been made available to our Trial Users. To register for a free trial click here...

Testimonials
Many organisations use GIS247 to provide 'training-on-demand' for their ArcGIS and MapInfo users. To read about some of their experiences click here...
GISP Accreditation
We are delighted to announce that all our training courses and modules are accredited by the GIS Certification Institute and award points towards their GIS Professional status.
Course Timings


Planning your training is even easier with our course timing information. Information on the duration of each section's presentation and estimated time to complete each exercise is available from the sidebar on the main page of each course and by clicking the stopwatch. So, whether you're planning a full training day or just want to run through a specific presentation, you can now easily see the time needed for every section of every course.
INSPIRE Directive



The INSPIRE Directive is a key development for the GIS community, particularly those working in public authorities and/or involved in projects that impact the environment. We have prepared an introduction to INSPIRE that outlines the key points of the Directive. Simply click the INSPIRE logo to access this valuable presentation - it is free to view and no registration is necessary.
GIS247 - online GIS training
Welcome to GIS247.com where we provide a total e-learning solution for ArcGIS and MapInfo Professional users which is comprehensive, flexible and affordable. We provide 'training on demand' for all levels of GIS users with the provision of a full range of training courses and technical modules.
We are Heading South!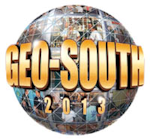 The 1st and 2nd May brings the Geo-South exhibiton to the Holiday Inn at Elstree (London). "As exhibiting at GEO-North was so sucessful for us we thought that we would exhibit at GEO-South as well," says Debbie Soloman, Training Manager at GIS247. "Its clear that e-learning is growing in popularity and people want to come and speak with us about their needs. Being at Geo-South will enable us to engage directly with people from the south of the country across a 2 day event". Attendance at Geo-South is free with lunch included. There are also an exciting series of seminars for people to attend. To register to attend click
here
.
Unique and Time Limited offer for Students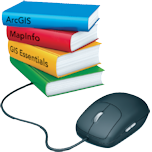 In conjunction with the leading geospatial portal Location-Source, GIS247 is making available a 20%+ discount offer to students. This is for a very limited period only. For full details visit our Facebook page or our
News
page.
This offer is available to students worldwide.
Location-Source Publishes the Benefits of E-Learning

Each month Location-Source has a special focus. This month, this web portal is focusing on the benefits of E-Learning and has published, in full, the article written by GIS247s Training Manager, Debbie Soloman. "E-Learning is growing in popularity due to the huge benefits this self-paced approach has on a persons ability to consolidate their learning," says Debbie. "Its great that these benefits are starting to be recognised by GIS users due to the quality of the GIS training that we provide at GIS247". To read the article visit
Location Source
GIS247 Exhibited at GEO-North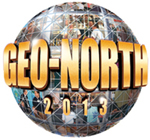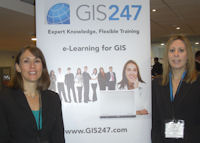 Some members from GIS247s training team appeared at this years' GEO-North event at the Reebok Stadium, Bolton. "GEO-North was a good event to exhibit at as we met a number of people interested in developing their ArcGIS and MapInfo skills. We also received some good suggestions about the additional types of technical training that people would like to receive via e-learning," says Debbie Soloman, Training Manager at GIS247. "Its clear that e-learning is growing in popularity as a beneficial approach to training."
Attendees at the exhibition also got to attend a series of free seminars which
were very interesting and informative.
GeoConnexion UK Publishes Article by GIS247s Training Manager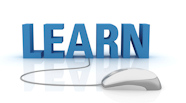 "An e-Learning approach to GIS training has many, many advantages over traditional training," says Debbie Soloman, GIS247s Training Manager. "I thought I would put an article together outlining the key benefits of the
'e'
part of our training approach and GeoConnexion (the GIS industries long established and respected publication) wanted to publish it." To read the article visit
e-Learning for GIS: benefit from the 'e'!
2012 AGI Award Winner Announced - Sponsored by GIS247

GIS247 would like to congratulate
The Coal Authority
for winning this years
Central Government Best Practice & Innovation Award
. "All the entries for the AGI 2012 Awards were very well presented and deserving. It was a difficult decision", says Debbie Soloman from GIS247. "The Coal Authority have very successfully implemented a big bang approach to how they work and achieved some remarkable results."
A Recent Email from a GIS247 User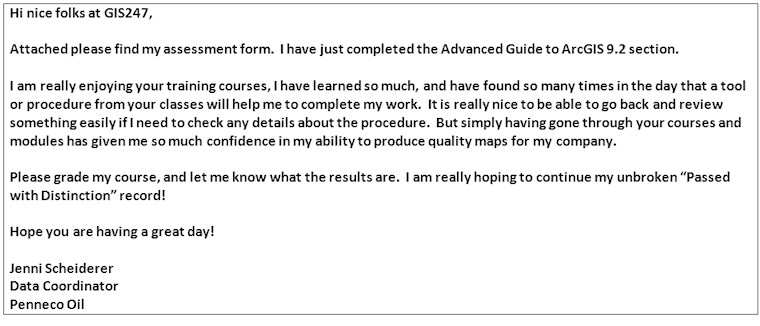 NEW What's New in ArcGIS 10.1 training course
GIS247 users with a licence to our ArcGIS courses can now access the
"What's New in ArcGIS 10.1"
training course. This latest release of ArcGIS has many important enhancements and new features. This new course is essential for anyone who has upgraded to version 10.1, or is thinking of doing so. All of the presentations are available with Closed Captions for hearing-impaired users and for those learning in a noisy environment or where speakers/headphones are not available. The provision of Closed Captions further reinforces the benefits available from a GIS247 licence.
NEW GIS Essentials Presentations

As part of our continuing commitment to expand the training and educational material about GIS that we make available, GIS247 has made 3 new presentations available under the GIS Essentials section. These provide an overview and information about the datasets that are available under the Public Sector Mapping Agreement (PSMA), which is available to public bodies throughout England and Wales.
Competition winner comments on GIS247
"The online training programme developed by GIS247 is ideal for me as a consultant working in the property and GIS arena. It's accessible at any time, the quality of the training material is excellent and it is affordable." Jeremy Murfitt, EIS Property
Congratulations again to Jeremy - he has just had his winning article published in GIS Professional magazine. Click News for more information and to read the full article.
Live recorded ON DEMAND webinar
Learn about using GIS247's on-demand training:
E-Learning with GIS247
(46:32 min.)
This webinar was recorded live in May, 2011. (A new webinar will be run later on in 2012) Just click to watch.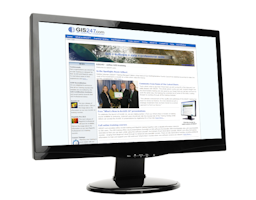 This webinar will show you
• How GIS247 works - answering questions about software, data, licencing, etc.
• Show the range of training courses and technical modules for ArcGIS & MapInfo
• How training presentations are accessed and their contents
• How data is supplied with each course
• Additional resources such as timings and GIS247's training assessment process
• A users personal 'My GIS247' home page
• GIS247's Learning Management System
• Administrator privileges and capabilities
• The benefits of on-demand training
---
In the Spotlight: Iona Gerrard
During the last 6 months Iona Gerrard from Fife Council has used GIS247's training on-demand service to undertake 8 comprehensive training courses. She has subsequently developed signifiant and valuable expertise in using ArcGIS that she is now able to work on a range of complex GIS based projects including Fife's 'Corporate Address Gazetteer Improvement Project'. To find out more about her experience and progress click
here...
---
Comments From Some of Our Latest Users
"Just a short note to say that I have been up and running for a few days and I am really pleased with GIS247. The whole system works very well. Jumped straight into the intermediate training and very good as you forget that you get lazy and tend to work the same way, the training has reminded me of some of the tricks. Looking forward to working through all the training modules."
"The ultimate endorsement of the quality and usefulness of the GIS247 training has been to renew our licence. It is now viewed as such a strategic investment that we have moved to a central approach to fund our licence."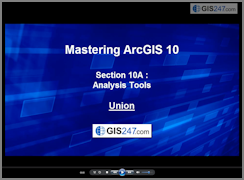 ---
Free ArcGIS 10 presentations
Section 1 from our What's New in ArcGIS 10 training course is available to everyone; licenced users and visitors. Licenced users should just visit the Courses tab of the Training Catalog whilst visitors can access the ArcGIS 10 presentations by registering for a free trial. There's also a sample presentation from our
Mastering ArcGIS 10
course to view immediately.
Read More...
---
ArcGIS and MapInfo Professional - Full On-Line Courses & Modules
GIS247 offers a range of full, comprehensive training courses plus technical modules for Esri ArcGIS and MapInfo Professional. All are provided as a series of re-watchable presentations with accompanying downloadable data with follow on exercises (for the courses).

ArcGIS users get access to all of our ArcGIS training courses, which are relevant to ArcView, ArcEditor and ArcInfo licences. A comprehensive set of courses and modules are available for all versions of the software.
Read More...

MapInfo users get access to all of our MapInfo courses and modules. This includes courses for different versions of the software. Read More...
---
Free trial access
GIS247 offers a free 30 day trial. This will allow you to view the full range of training courses and modules that are available at GIS247.com together with access to sample presentations and exercises.
Read More...
---
YouTube Channel

We have some free presentations available on YouTube. Just click the YouTube logo to visit our channel page in a new window.
YouTube...
---
Regular course updates
As we continually add training material to GIS247.com, you automatically get access as part of your GIS247 licence for free. This includes access to courses on new versions of the software as they are released.
Read More...
---
Tailored training
We can also tailor courses to use your own data and then host them at GIS247.com for your company's access only.
Read More...
---
Training support
Technical support is included as part of your GIS247 licence. We also offer Training Support, whereby you can receive live chat or voice support whilst completing training material. There is traditional email support available too.
Read More...
---
Training assessment
GIS247 also offers optional assessments of your progress with the training course exercises. Licenced users can download an assessment form to input their anwsers from the course exercises. Users can either return individual forms or complete one of our new assessment records to then receive their grade and a GIS247 authorised certificate. Our training courses are also accredited.
Read More...
---
GIS247.com meets your GIS training requirements for a single fee.
We supply the training so that you can develop your professional skills.