GIS247 Ultimate Licence
An ULTIMATE licence provides the ultimate in GIS training provision.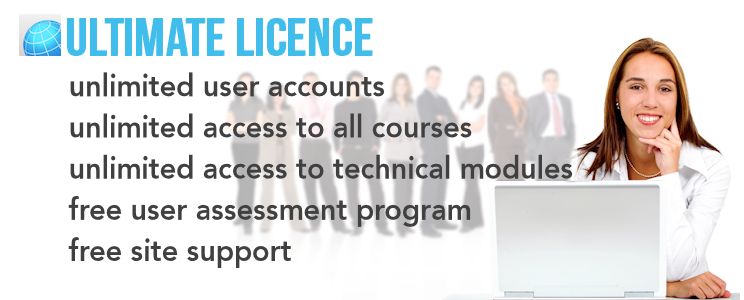 UNLIMITED user accounts - provide every GIS user in an entire organisation with a GIS247 user account.
UNLIMITED courses - every user gets access to ALL of our courses.
UNLIMITED access - every user gets access to ALL technical modules & the GIS ESSENTIALS section.
FREE accreditation - every user can submit assessments to prove their new skills.
FREE site support - every user can contact us if they need help completing a course.
PLUS...
ALL VERSIONS - training is provided on all versions of your chosen GIS software so even if you upgrade during your licence period, you will still get relevant training.
NEW COURSES - when we add a new course for your chosen GIS software, you will automatically get access even if that course is for a new version released after your GIS247 licence started.
USER management - appoint your own GIS247 administrators to manage user accounts AND view each user's training progress.
TRAINING progress - every user's training progress is recorded, viewable by themselves AND their administrators.
GROUP users - administrators can group users together, to assist account management.
PERMISSION control - administrators can control access to courses for individuals and groups, guiding users to the courses they should be following.
12 MONTHS - an ULTIMATE licence lasts for 12 months, providing ALL of your GIS training needs for a whole year.
ROI - an ULTIMATE licence not only represents incredible value for money, it offers superb rates of RETURN ON INVESTMENT. User skills advance quickly, with associated benefits to their employer.
24/7 - of course, the training & technical modules are accessible 24/7, 365 days a year. This great flexibility means that users can train whenever they want, wherever they want.
An ULTIMATE licence is our most popular licence and great value.
View the current Training Catalog to review the courses, modules & GIS Essentials accessible with an ULTIMATE licence.
Please note that whilst browsing the Training Catalog, you will not be able to access the course material, but can browse course titles, sections and topic lists.