Links
What is GIS247?
How it Works
What You Get
Benefits To Your Company
Benefits To You
News
Testimonials
Assessment & Accreditation
Free User Account
Tailored & Custom Training
GIS247 Pricing
Training Support Pricing
GIS247 eLearning & Face 2 Face

---
GIS247 Brochure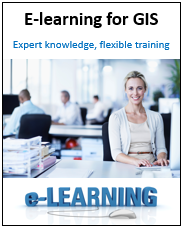 Click on the image to open a short summary brochure about GIS247





---
Comments from Free Account users:
"Registering for a free account was a great way for us to 'test' the approach of GIS247. Our 'testers' found the site easy to navigate and access the free presentations and exercises. Although we weren't able to try out the full courses, the free courses did give us a good idea of how it all works and for us to determine that the quality of the training is excellent."
Free Stuff
To access our Free Courses, just register for a Free Account - it really is free, you don't need a credit card and there is absolutely no obligation for you to buy anything!
With a free account, you can access free ArcGIS, MapInfo Professional, or QGIS courses or even all 3.
Simply Register for a Free Account and follow the instructions. You just register an email address with your name and a few other details. You will then be emailed details of your free user account.
Once registered, you can access the free courses available on the Free Stuff tab of the Training Catalog.
The free courses contain sections taken from some of our full training courses. These include presentations and exercises for you, complete with downloadable data. This means that you will be able to get hands-on experience of your chosen GIS application and discover the great learning tool that a GIS247 exercise represents.
You will also be able to browse the full range of training courses and modules that are available at GIS247.com. This includes being able to view course section titles, part titles and the topics covered in each part. Note that you will not be able to access the presentations or exercises for the full courses via a free account.




Free courses are available for ArcGIS versions 10.3, 10.2, 10.1, 10.0, 9.3, 9.2, 9.1 & 9.0.
Free courses are available for MapInfo Professional versions 12.0,11.5,11.0,10.0, 9.5 & 9.0.
Free courses are available for QGIS versions 2.10, 2.8, 2.6, 2.4, 2.2.
Your free account will give you a taster for the innovative and effective training available at GIS247.
---
To instantly get an idea of the quality of our presentations, you can also access free sample presentations. These are hosted on YouTube, so you can visit our YouTube channel or just access Free Presentations to view some of them right here at GIS247.com.
GIS = software + data + professional skills

---