Support Information & Pricing
We have a team of highly skilled GIS trainers who are very experienced and available to support you in your e-learning. This team can provide support in 2 ways: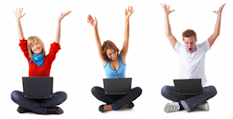 Site Support : this is included FREE with your GIS247 licence.
Training Support : this can be optionally purchased in addition to your GIS247 licence.

---
Site Support
Site Support is included free of charge with every GIS247 licence.

Site Support usually takes the form of email to resolve any problem with the operation of the website. The Support email address is clearly shown on each users My GIS247 home page when they have logged in.
Any technical issues with viewing the presentations or accessing/using any of the assets (exercises/data/assessments/etc.) are covered by Site Support to ensure that each user is able to access the training material and follow the e-learning. Our support team is also available to contact directly via phone. All queries are dealt with by specialist GIS trainers.

The types of query covered by Site Support include :
1) The pdf for a specific exercise won't download properly.
2) The link to a course does not seem to work.
3) I am unclear on a particular technical term - can you explain it to me?
4) I'm not sure how to unzip the data file for an exercise. Can you help?
5) I'm stuck on this bit in the exercise. What do I need to do?
6) In the current exercise, I don't seem to be able to select a feature. What do I need to do that I have missed?
7) I think I have the wrong answer to an exercise question and can't figure out were I went wrong - can you guide me through?
We respond to and resolve Site Support issues within 24 hours.

---
Training Support
Training Support is available to support users in their own work using the ArcGIS or MapInfo software. It can be used by you to resolve queries related to the implementation of the functions covered by the training material in your own work and data.
Most users find that the included Site Support is more than adequate for the smooth running of their licence and support for the training of their users. However additional Training Support can be optionally purchased. This type of support can be purchased at any time and for more than one type. Three different types of Training Support are offered:

1. Email Support (35 emails per organisation)
Email your query to our training support team. Response within 24 hours.
Email allows you to explain your query in more detail and to attach screen shots if required.


2. Live Messaging Support (25 chats per organisation)
Live text messaging available through GIS247.com. Immediate live response.
Receive instant live help from one of our highly qualified trainers.



3. Live Voice Support (25 calls per organisation)
Live voice support available through GIS247.com. Speak directly to a member of our support team.
Receive instant live help from one of our highly qualified trainers.


Note that live messaging and live voice training support will be available at times between 0900 and 1700 GMT.
The types of query covered by Training Support include :-
1) In the GIS247 presentations I learnt how to add an Excel spreadsheet to ArcMap. Is it possible to add a subset of data from my own data file as a worksheet as a table - I am having trouble doing this?
2) I want to change some of the default settings of ArcMap but can't remember how to access these settings. Can you help?
3) Why doesn't the thematic map that I am creating on my own data in MapInfo seem to be updating?
4)On the Spatial Analyst course I learnt how to convert grids to polygon but I don't seem to be able to do this on the grid data that I have created for my work - why is this?

---
Training Support Pricing
There are 3 different types of Training Support. Each type can be purchased individually or in combination.
For example, if you purchase Email support and Live messaging support, your organisation will be allocated 35 emails AND 25 chats for your chosen software product. If your licence is for both ArcGIS and MapInfo training your support can be shared across the products.
It is worth noting that one of the many capabilities that your GIS247 Training Administrator has is to allocate a number of emails/chats/calls for specific users.


Training Support can be added to your GIS247 licence at any time during your licence period and additional support can be purchased. Training support is valid whilst your GIS247 licence is valid.
---
All site and training support is provided in the English language.
All training and related material is in the English language.
All prices shown in GBP(£) exclude UK VAT (@20%). UK VAT is payable for UK based organisations and will be added.
All prices in USD$ are exempt from VAT (the customer must be based outside of the UK).
Training support is provided once full payment for support is received and cleared.