MapInfo Training & Resources
We are currently offering FREE access to all of our MapInfo training. Visit the Catalog for details.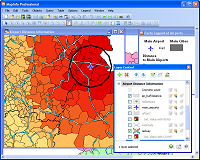 MapInfo Professional (or MapInfo Pro) is considered as one of the leading desktop GIS software products. As a result there are many different organisations and individuals who use MapInfo Professional in a range of different ways, for a large variety of applications.
At GIS247 we provide training and resources to support all these different MapInfo users. Our approach is to provide a range of training courses and technical modules that users can access when it most suits them. GIS247 provides on-demand training so that each person can develop the skills that they require.

---
Training Courses
Each MapInfo training course is designed to accommodate a different user level : from beginner through to advanced. Each course is designed to build on the knowledge gained from other courses so users can comprehensively develop their skills and experience by following a structured training path or by accessing any specialist course that suits their need.
For example our Beginners Guide to MapInfo course is designed for users new to GIS or the MapInfo software who wish to cover the core functions of the software. The Intermediate Guide to MapInfo is designed to follow on from this course to develop each persons ability to utilise the spatial analysis functions and more challenging options that are on offer. The Advanced Guide to MapInfo course is designed to go even further by dealing with complex techniques and advanced topics such as the distance calculator and other functions for manipulating and managing data.
---
Modules
In addition to training courses, at GIS247 we also provide a large number of mini and super modules to support MapInfo users. Mini modules are short presentations that cover a specific technical function, for example showing how to create portable workspaces or managing the selection style. Super modules are presentations that cover a larger topic area. For example, dealing with all types of thematic mapping or analysing the spatial relationship of different map features.
---
Software & Versions
All courses and modules are suitable for users with a MapInfo licence.
As not everyone is using the same version of the MapInfo Professional software we provide our full set of training courses and modules on the latest version, but we also provide them on previous versions from as early as version 9.0. A 'Whats New Course' on the latest version is also always made available. Please note that although the course/module names are the same between versions, all presentations, exercises and data have been developed for each specific software version, encorporating new functionality as appropriate.
---
Access
At GIS247 we are constantly developing additional courses and modules and when completed they are added to the Training Catalog. Access is made available as part of a GIS247 licence. A full list of the range of training courses and modules can be found on the
Training Catalog
.
As a guide, we have developed the following chart to show recommended training course routes depending on your current experience with MapInfo.
Route A is recommended for users with little or no experience of MapInfo who might also be unfamiliar with GIS concepts.
Route B is recommended for users with greater understanding of GIS who want to learn at a faster pace.